Barrie North Collegiate Reunion: Classes of '67 and '68
– by jim young
We just returned from the Barrie North Collegiate Reunion: Classes of '67 and '68 held at Springwater Park.
Attendees included former students that now live in the UK, Spain, The Mediterranean, The United States, Australia and of course all across Canada.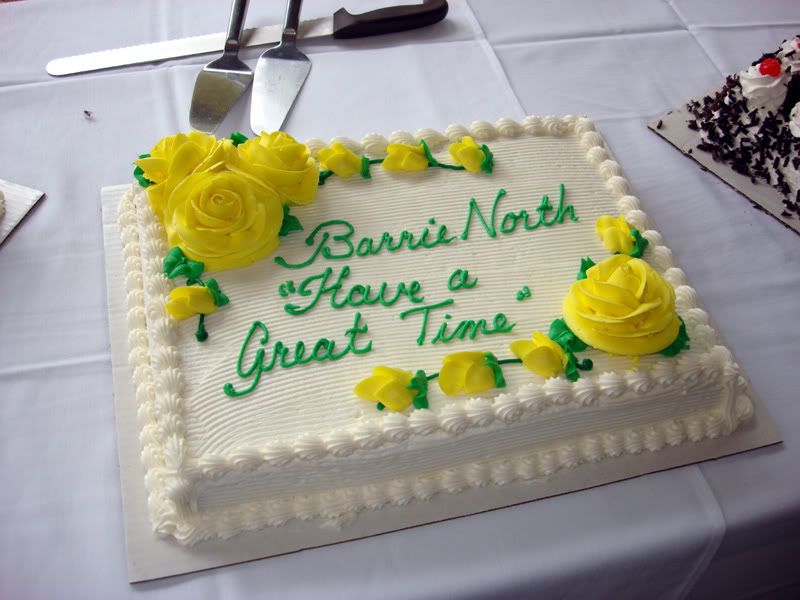 As I never attended North (it was my wife's reunion) and did not know anyone there, I mostly stood back and observed long separated classmates and teachers reminiscing about old days and catching up on more recent events as the proverbial fly on the wall might have.
I think this put me in a better position to judge the success of the reunion than perhaps some of the more closely involved participants and from my perspective, I would suggest it was a huge success.
One might argue that it was a success due to the tireless efforts of the reunion organizer, Al Crawford. Personally, however, I think the degree of success of any reunion is directly proportional to the interest of the attendees.
That should not however, be interpreted to diminish the respect and gratitude that I'm sure everyone will agree is owed to Al for all his hard work.
Thanks Al for everything you did, including the seemingly endless and diligent follow-up and email over the past year. Al also did a great job of maintaining the reunion website at: Barrie North Collegiate Reunion
(I'm sure everyone is anxious to see photos of the reunion that Al has assured us he will post there.)
Keep in mind too, that Al Crawford arranged this entire event from his home on the other side of the country in B.C.
Was it pure luck or did Al just know that "Catering by Colin" was probably the best choice for providing the food? This meal was undeniably one of the best buffet meals for that type of an event that I have enjoyed in a long, long time.
Even the weather cooperated. I suppose it could have been a little warmer, but hey – it's October in Ontario!
At least the downpour that we had earlier in the day let up, the sun came out and we were able to enjoy a leisurely stroll through the park to visit the wildlife that are residents there.
By now, I'm sure my regular readers are waiting for the other shoe to drop. So as not to disappoint them and at the same time, keep this article on a more positive note out of respect for Al Crawford and the Barrie North Collegiate Classes of '67 and '68, I will state my disappointments in my next article.
You can read it here: Shame On You!
– 30 –