Hospital Chicken Wings
– by jim young
(Read this entire article to discover how you can get ½ pound of FREE Chicken Wings)
There are only 2 reasons you would want to visit the Royal Victoria Hospital in Barrie.
Neither of them is good.
But if you HAVE to visit the RVH, it's probably better that you are going to visit a loved one that is sick or injured rather than you being the sick or injured one.
Not that either you or I would wish any illness or injury on any of our loved ones.
But, really – with the possible exception of our children who we would literally take a bullet for – let's be honest.
We're all secretly rooting for the OTHER guy to be the sick or injured one.
But if you HAVE to visit the RVH – in addition to visiting your sick or injured loved one (and possibly even if you are the sick or injured loved one) there's one place at the RVH that you won't want to miss – the RVH Food Court.
Here you'll find a true smorgasbord of all time favourites such as Tim Hortons, Subway, Jugo Juice, Druxy's Fresh Deli Revolution and the RVH Auxiliary Café Royale.
Each offers their own quality niche and all are very good, but the one place that takes the cake (one of the few items not offered on their menu) is Panzerotto Pizza and Wing Machine.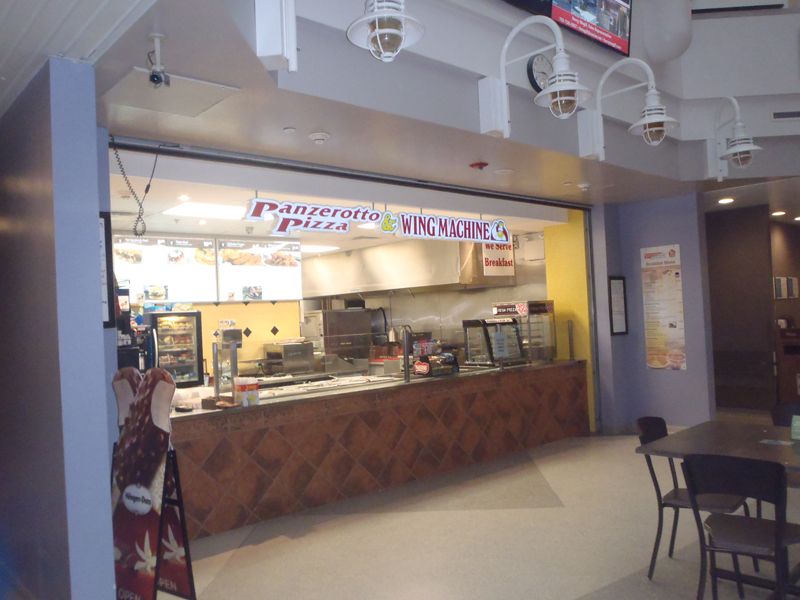 Where else can you go, especially in a hospital, to get Pizza and Wings, AND a wide range of Burgers, AND Pasta AND Soup AND Salads AND Panzerotto AND Sandwiches AND Side orders of Garlic Bread, Onion Rings or French Fries AND Chicken Fingers AND Ribs AND Dessert? (Except for cake as previously noted.)
But wait – there's more!
All this and you can ALSO get HOMEMADE Breakfast!
Just how cool is that? All in one convenient place.
I can't tell you that Panzerotto Pizza and Wing Machine makes the best chicken wings in Barrie.
Sorry guys – but "Buffalo Wild Wings" still takes the proverbial cake in that area. (And they don't serve cake either.)
But I will say this – "the wings at Panzerotto Pizza and Wing Machine at the RVH are still pretty damn good and certainly the best to be found on this end of town."
And that's not too shabby when it comes to hospital food.
Could we dare expect good customer service too?
After a recent visit to our injured loved one we stopped by Panzerotto Pizza and Wing Machine for an order of chicken wings. When offered to upgrade to the combo package, we opted for onion rings.
It wasn't until we had left the RVH that we realised we had been charged full price for the onion rings instead of the combo package.
The $2 to $3 difference was not enough to entice us to return for a refund.
However, following a subsequent visit when asked if I wanted to upgrade my wings to a combo, I casually mentioned to my server (a different server) of the previous night's oversight.
And while I was content to receive just his apology, I was more than pleased, when our order was ready, to receive a complimentary order of french fries to compensate for the previous night's overcharge.
I have always said any company should not be judged on their mistakes, but on how they handle their mistakes.
Panzerotto Pizza and Wing Machine proved they are a company that deserves recognition for not only their great food but also providing great customer service.
Do yourself a favour. If you HAVE to visit the RVH in Barrie anyway – make it a worthwhile trip and stop by Panzerotto Pizza and Wing Machine. You won't regret it.
You might want to visit them even if you don't have to visit the RVH.
Now, as promised – here is how you can get your ½ pound of FREE Chicken Wings.
Parking in the RVH parking lot will cost you $9 for just a 90-minute visit to your loved one.
Instead of parking there – drive to the nearby Quarry Ridge Road.
There is no parking on the first portion of the street but a little further down the road you can park for free.
From there it's just a short walk to the RVH Entrance.
½ pound of Wings at Panzerotto Pizza and Wing Machine will set you back $6.99 but as you've saved $9 in parking – you're ahead of the game by $2.01.
It's like being paid to buy ½ pound of wings!
And as an added bonus – the walk will do you good and help burn off some of those calories you're going to take in.
And unless your loved one is on a specific medical diet – you might want to share your wings with them too.
– 30 –