Take Notes – Keep A Diary
A Brief Glimpse of the Life & Hardships of an early Pioneer
– by jim young
Many years ago when I was living in my Grandfather's house, I came across his Mother's Diary.
It took me on a time travel adventure back to the turn of the 20th century in Innisfil Township.
At the beginning of the diary, dated 1903, my Great Grandmother, Alice Maneer Young was living in a log cabin on the 10th line of Innisfil, with her husband George, her 10 year old daughter (Bertha) Lisle and her 4 year old son, Willie (my Grandfather).
The specific date is February 2nd, a Monday.
It's raining.
Old Mrs. Brown has died "and one of Edd Webbs little boys from Scarlet Fever". Two days later Mrs. Brown's funeral is held and another child of Edd Webb has died.
By the end of the week, the rain has lifted, it's a "beautiful day" allowing Lisle and Willie outside to play. A third Webb child is buried.
By the 8th, my Great Grandmother notes "it is lonely" and this seems to be a foreboding of what is to come.
The month of August contains a single entry: "I am not well."From my Great Grandmother's diary I learned that in 1904 eggs were selling for 17 cents a dozen. My Great-Great Grandfather was selling Spy apples for $1.75 and potatoes for 75 cents.
On May 29th, a simple note: "Baby boy born at 2 o'clock. All pretty well." The baby boy was my Grandfather's younger brother Murray.
The next day George, (my Great Grandfather) planted potatoes.
Later that fall, September 23rd, my Great Grandmother turns to her diary, perhaps for comfort, when she writes, "How can I write what happened on this day, our dear little Murray was taken away from us".
And just over 2 months later, all my Great Grandmother can bring herself to write is "Another sad day". Her daughter Lisle has also passed away.
The previously mentioned foreboding of sorrow continues with various entries during the first month of 1905. "The house seems so empty that I feel like running away." … "I enjoyed the (church) service only it makes me sad and lonely" and on their wedding anniversary, "12 years married and this last one has been full of sorrow. We are very lonely."But life goes on.
In February of 1905, butter is 20 cents. "Uncle David and Aunt (sic) came down to stay a few days so we are not lonely".There are happy times. "We went up to an open meeting of the Old Grange at the hall and we had lots of laughing. … Charlie Neely came over so they are playing crockinole." But the happy times are interspersed with still too many notes such as "I feel very lonely and despondent" and "I try not to let the others know but it is hard to be cheerful all the time."
By September of 1905 butter has gone up 3 cents to 23 cents but eggs have dropped a whopping 4 ½ cents to just 12 ½ cents a dozen.
There was an indication of intermittent relief from the sadness during this period with entries such as, "We all went to the hall and had a debate on 'Resolved that City Life is preferable to Country Life' and the country side made things so plain that the city were beaten badly."
Still, the overall mood of loneliness and grief continued. The entries became fewer and farther apart until they ended altogether. Then on December 23, 1906, my Great Grandmother Alice Maneer Young passed away at the age of 34 while giving birth to an unnamed infant son who was to be buried with her.
When I first read her diary, I had only a single black and white picture of my Great Grandmother to help put a face to the stories. I remember staring at it for long periods of time and I felt I had somehow connected with her and had some understanding of who this woman, who had died almost 50 years before I was born, really was.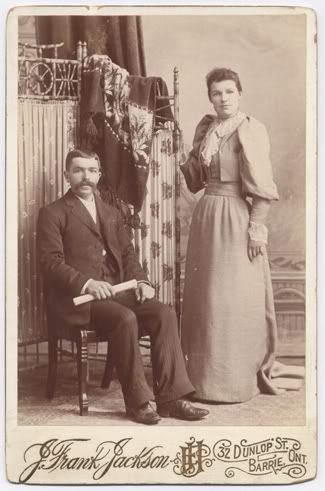 "How great it will be for future generations," I thought, "to have, not a diary, but actual audio-video recordings of their ancestors on film, VHS, DVD, mpeg or whatever format may exist in the future.
However, I wonder now if they will really feel the same kind of intimacy that I experienced through my Great Grandmother's diary.
Yes, the future generations will know how their ancestors looked and sounded and even how they acted (or re-acted in front of a camera as the case may be) but they will not necessarily have any actual insight as to who their ancestors really were as a person.
They will not have the privilege of knowing what their ancestors thought or how they felt.
It's a shame more people don't keep diaries like this anymore.
Perhaps this is something someone should run with on a Facebook campaign to encourage us all to pick up a pen and just write.
Just write about anything. What you're thinking. How you're feeling. What you fear. What makes you happy? What makes you sad?
Take the time to keep a diary. For yourself. For future generations. "For A Poet A Thousand Years Hence"
And for what it's worth – to my great grandchildren of the future, today butter costs $2.97 and eggs are $2.99 a dozen.
I don't know how much Spy apples are. They are very hard to find this year.
– 30 –